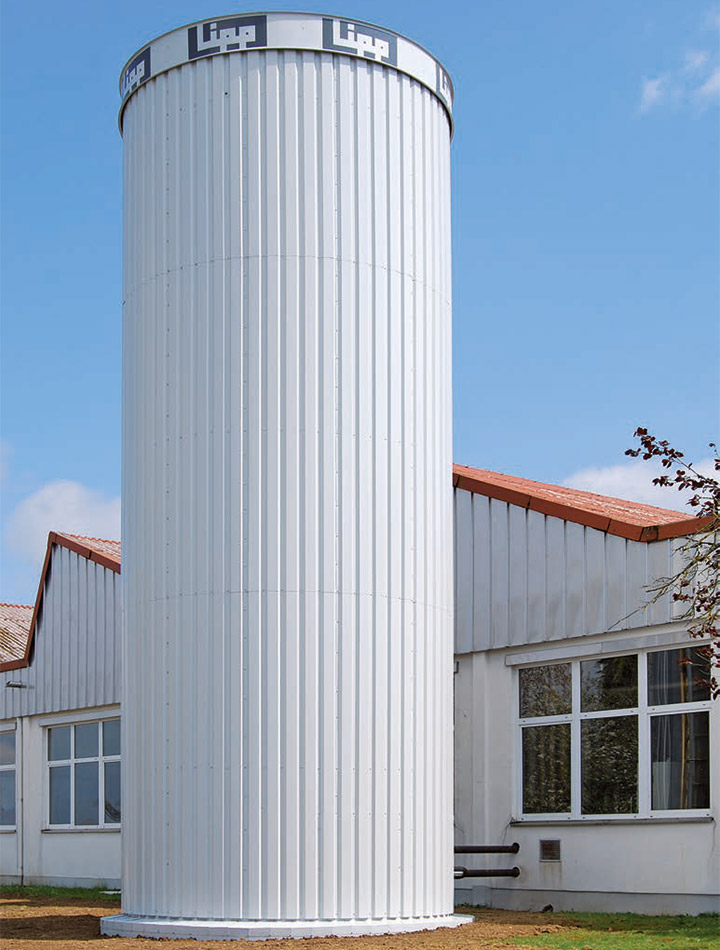 LIPP Buffer Storage Tanks
For the intermediate storage of renewable energies
The LIPP buffer storage tank is the tailored thermal storage solution for renewable energies with an effective volume ranging from 100 to 5.000 m3 which is suitable for individual customisation.
Expedient buffer storage is a prerequisite for the effective utilisation of heat from biogas plants, biomass cogeneration plants, solar plants or other heat sources. The flexible-capacity LIPP buffer storage tank provides the ideal solution for this application. The tanks are fabricated on site using the tried and tested LIPP Double-Seam System or LIPP welding techniques.
Insulation can be tailored to the intended application in order to produce large-volume, above-ground storage tanks with an individually customised interior. The tanks are designed for non-pressurised operation with an operating temperature of up to 95 °C and are suitable for use with heating water.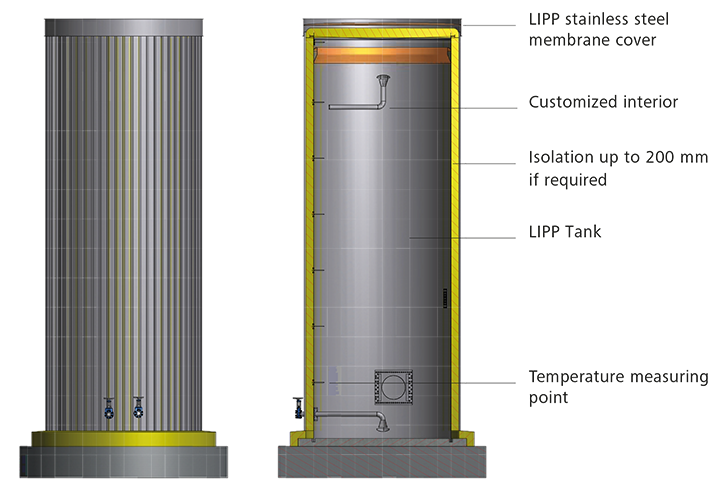 tailored solution suitable for individual customisation
design can be welded or provided with the LIPP Double-Seam System
effective use of the heat from biogas plants, solar plants, etc.
flexible in terms of size and short construction time
wide range of peripheral accessories
Volume
from 100 to 5.000 m3
further sizes on request

Medium
heating water
Operating pressure
unpressurised
Operating temperature
up to 95 ° C
Exterior colour
freely selectable according to RAL
VERINOX stainless steel
Duplex material from a galvanised steel band on the outside and a stainless steel band, e.g. 1.4301 [304], 1.4571 [316Ti] or 1.4539 [904L], on the medium side.
Stainless steels
e.g. 1.4301 [304] or 1.4571 [316Ti]
Galvanised/black steels
further materials on request
There is a wide range of peripheral accessories available for the technical equipment of the tank:
Roofs and covers
Tank bottom
Pumping and mixing technology
Tank insulation
Woodchips
Stairways, ladders, platforms, connection pieces, manholes, etc.