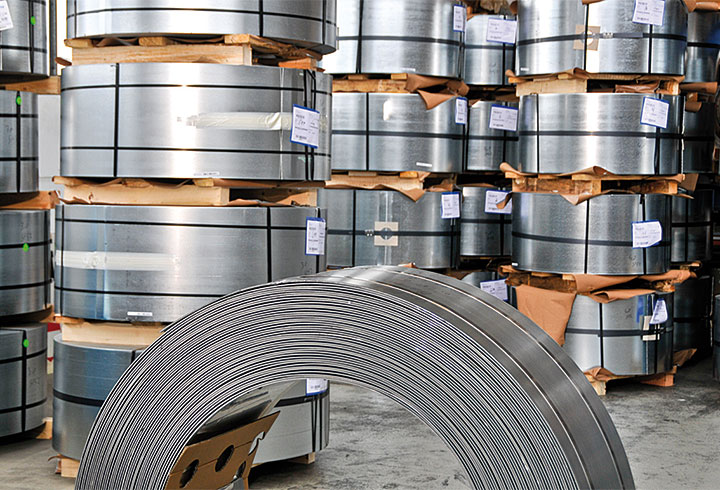 Lipp offers a range of metallic materials suitable for use with a wide variety of media, from pure water to problematic and aggressive substances. Those materials range from galvanised/black steel through the combination material VERINOX® to high-alloy stainless steels. VERINOX® stainless steel is a patented, award-winning combination material that offers the properties of high-quality stainless steels, e.g. 1.4301 [304], 1.4571 [316Ti] or 1.4539 [904L], at the cost of galvanised steel and has been in use for more than 20 years. The highest quality and longevity of materials are our top priorities.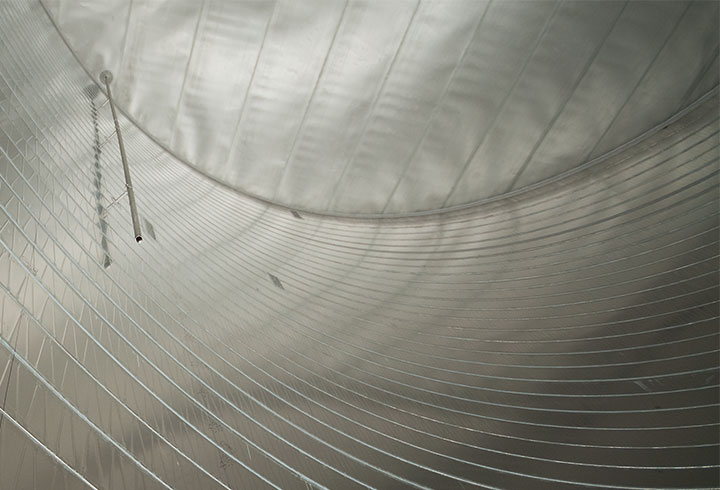 LIPP® materials at a glance
Stainless steels
VERINOX® stainless steel
Galvanised steels
Black steels
More information about the LIPP® Materials
Stainless steel tanks available in welded or folded designs
Aggressive or sensitive media often require the use of high-alloy, corrosion-resistant stainless steels. Lipp offers stainless steel tanks which meet the highest quality requirements for storing these materials correctly.
Tanks are available in welded designs produced using the LIPP welding technique as well as in folded designs with the LIPP Double-Seam. Stainless steel tanks are available in a range of grades including 1.4301 [304] and 1.4571 [316Ti]. Other grades are available on request.
Besides tanks, the Lipp portfolio also includes stainless steel roofs and covers and stainless steel bottoms. Material, strength and diameter can be optimally tailored to suit the individual application. Accessories and attachments in stainless steel complete the corrosion-resistant finish of the tank, providing a uniform high-quality media storage facility.
VERINOX® stainless steel – the award-winning duplex material
Steel and stainless steel are becoming increasingly expensive; however, special stainless steels are indispensable for the storage and processing or handling of liquids. Lipp has developed the duplex material, Verinox®, to make optimal use of the economic advantages of the Lipp Double-Seam System in these applications.
A stainless-steel band and a galvanised steel band are joined with a separation layer. As a result, the proportion of expensive stainless steel is reduced considerably, as are the total costs. The material quality of the stainless-steel band is variable, depending on requirements – 1.4301 [304], 1.4571 [316Ti] or 1.4539 [904L].
The interior of each container or tank design is doubly lined with stainless steel throughout, while the exterior is galvanised steel from top to bottom. The decisive economic advantage: the same benefits at lower costs!
Lipp received the Dr Rudolf Eberle Award (award for innovation in Baden-Württemberg) in 2005 and the German Steel Innovation Award in 2006 for this pioneering invention.
VERINOX® – the innovation that reduces costs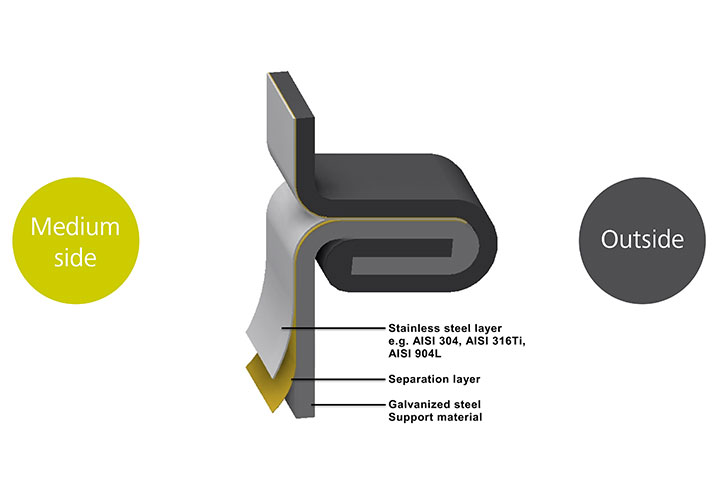 Stainless steel is expensive. Verinox® offers the same level of quality as the conventional material used for the construction of tanks and containers while using less stainless steel.
With Verinox® – the duplex material developed by Lipp – a sheet of stainless steel is joined to a sheet of galvanised steel by means of a separation layer.
Three components form the basis for this material that is ideal for tank and container construction: not only does it have outstanding physical properties but it also uses a reduced quantity of expensive stainless steel, resulting in lower costs.
With this invention, Lipp has successfully retained the economic benefit of the LIPP Double-Seam System while improving the material savings made.
Verinox® enables stainless steel to be used inside tanks – especially with media that require sufficient resistance:
No open joints due to the folded design
Doubly lined in stainless steel with a smooth continuous finish
Various grades of stainless steel suitable for use inside tanks
A simple steel or galvanised sheet is sufficient for the outside of containers or tanks as it will only have to withstand normal weather conditions.
Verinox® containers and tanks – economical in terms of construction too
Verinox® is produced in-house using customary components in the form of a rolled strip. Following optimum preparation by the experienced assembly team, tanks are constructed using Lipp's optimally automated and efficient production method that has been proven the world over. So the best possible cost-benefit ratio is also ensured during construction.
Possible areas of application for VERINOX®
VERINOX® tanks are suitable for storing problematic or sensitive media including water, waste water, sludge, manure, feed as well as a variety of intermediate and end products from the chemical, pharmaceutical and plastics industries.
Galvanised/black steels
Lipp uses galvanised or black steels for conventional tank construction. LIPP tanks in galvanised steel are produced with the LIPP Double-Seam while black steels can be both folded and welded using the LIPP welding technique. Welded tanks are available with wall thicknesses of up to 6 mm. Tanks with wall thicknesses of up to 8 mm are currently under development.