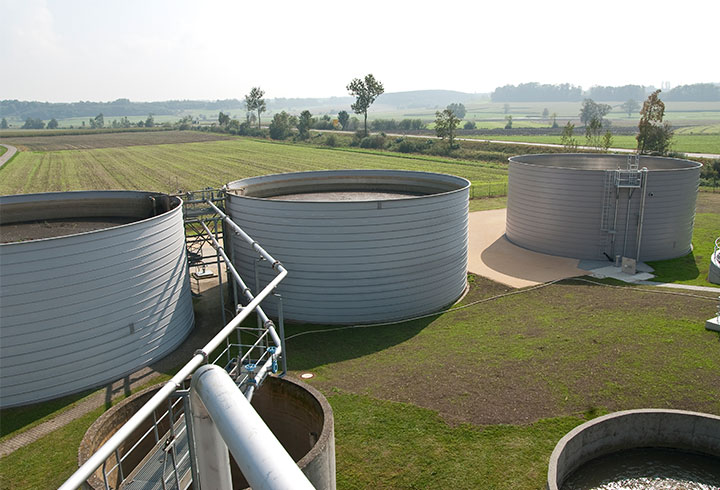 LIPP® Liquid Storage Tanks
Made from Verinox® stainless steel or galvanised steel with volumes ranging from 100 m3 to 10,000 m3
Both industry and communities require professional solutions for plant and tank construction and for the storage and treatment of liquids, as well as flexibility in terms of size, choice of material and equipment.
When constructing liquid storage tanks, the selection of the best material is an important quality factor. Municipal/industrial waste water and sludge or certain processing, intermediate and end products from the chemical, pharmaceutical and food processing industries set high requirements regarding the tank material, for example. LIPP offers a variety of materials, ranging from galvanised steel through the combination material Verinox® to high-alloy stainless steels.
Waste water tanks
Sewage sludge tanks
Process water tanks
Storage tanks
Firefighting water tanks
Mixing and compensation tanks
Buffer Tanks
Stackable sludge tanks
Storage containers
Rainwater reservoirs
Digesters
Filtrate water tanks
Activation tanks
Percolating filter tanks
Final sedimentation tanks
Landfill leachate tanks
Special tanks on request
Diameter
continuously
variable from 5 to 50 m
Height
continuously variable
from 3 to 35 m
Volume
from 100 to 10.000 m3
Media
pumpable substances
of all sorts
pH level
from 3 to 13,
further on request
Exterior colour
freely selectable
according to RAL
VERINOX® stainless steel
Duplex material from
a galvanised steel band on the
outside and a stainless steel
band, e.g. 1.4301 [304],
1.4571 [316Ti] or 1.4539
[904L], on the medium side.
Stainless steels
e.g. 1.4301
[304] or 1.4571 [316Ti]
Galvanised/black steels
further materials
on request
Openings and leadthroughs of any size and shape can be installed, even in the event of subsequent upgrades. There is a wide range of peripheral accessories available for the technical equipment of the tank:
Roofs and covers
Tank bottom
Pumping and mixing technology
Tank insulation
Stairways, ladders, platforms, connection pieces, manholes, etc.
More than 3000 projects realised worldwide
The tried and tested LIPP system has been used to construct thousands of projects all over the world for more than 55 years. In particular, customers value the longevity of the tank solutions and the possibility of easily modifying them or fitting a wide variety of accessories during their service life. A selection of the projects undertaken using LIPP liquid storage tanks is shown below.
Pluspoint
versatile
superior quality
lower costs
In each case, Lipp always provides the right material for the area of application, while taking the respective conditions into account. That choice is based on the properties of the liquids and the structural requirements relating to the tanks. Lipp has an impressive record in terms of leak-tightness, longevity and professional design execution, providing well thought-out, solid finishing in every detail.