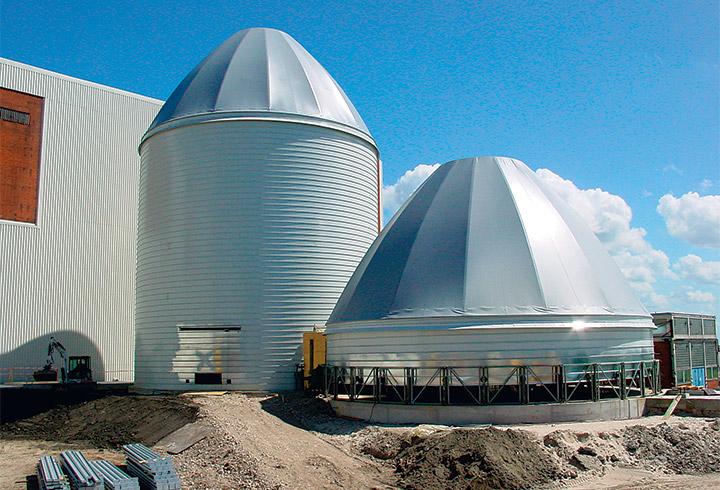 LIPP® Bulk Storage Silos
Guaranteed optimum storage for a wide variety of materials
The storage of bulk materials needs to be not only cost-effective but also safe, and systems should be easy to integrate in production processes.
LIPP Double-Seam technology and welded LIPP tanks have proven to be particularly suitable for bulk storage applications in industry and agriculture. LIPP silos provide a high level of stability and total leak-tightness and protect bulk materials from moisture. The smooth internal walls of the silos are a benefit that pays dividends when storing special media.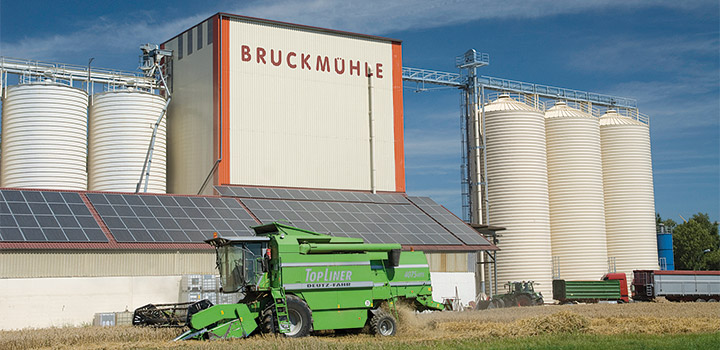 All kinds of bulk materials
Grain
Soya
Woodchips
Pellets
Clinker brick
Cement
Individually tailored to the customer's requirements
Flexible choice of materials
Steplessly variable diameter and height
Smooth internal walls
Low investment costs
High quality and a long service life
Free choice of RAL colours
Construction without the need for container boarding or scaffolding
Wide range of peripheral accessories
Consistently high quality worldwide
Diameter
continuously variable from 5 to 40 m
Height
continuously variable from 3 to 40 m
Volume
from 100 to 15.000 m3
Media
bulk goods of all sorts
Exterior colour
freely selectable according to RAL
VERINOX® stainless steel
Duplex material from a galvanised steel band on the outside and a stainless steel band, e.g. 1.4301 [304], 1.4571 [316Ti] or 1.4539 [904L], on the medium side.
Stainless steels
e.g. 1.4301 [304] or 1.4571 [316Ti]
Galvanised/black steels
further materials on request
Openings and leadthroughs of any size and shape can be installed, even in the event of subsequent upgrades.There is a wide range of peripheral accessories available for the technical equipment of the tank:
Roofs and Covers
Tank and Roof insulation
Inspection glasses
Gates, stairways, ladders, platforms, connection pieces, manholes, etc.
Silos for storing grain and other foodstuffs
Grain, soya and other foodstuffs are precious commodities and a major asset in agriculture and they need to be stored particularly carefully. With the tried and tested Lipp Double-Seam System, Lipp silos offer major benefits in terms of design and leak-tightness.
The container roof consists of a substructure comprising galvanised steel profile beams with a fibre-reinforced plastic tarpaulin stretched across them. It will give many years of use thanks to its UV stability. The material to be stored is therefore optimally protected against the effects of weathering. At the same time, the roof surface serves as a pressure relief disc in the event of dust explosions and prevents heavy parts from flying around, enabling damage to be rectified cost-effectively and within the shortest possible time.
LIPP® Bulk Storage Silo assembly time lapse video
More information about LIPP® Bulk Storage Silos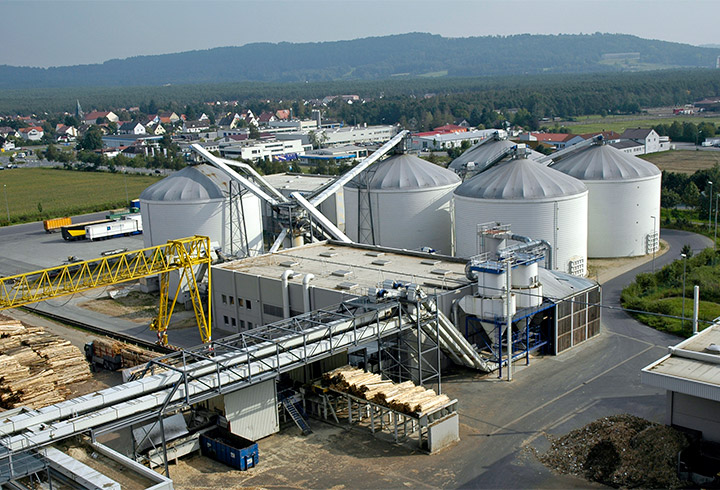 Flexibility in terms of size
Containers are available in a wide range of sizes, with diameters of 5 m up to 40 m and volumes up to more than 15,000 m3.
Wide choice of materials
There is a wide variety of materials to choose from, ranging from steel and galvanised steel through to high-alloy stainless steels (e.g. 1.4301 [304] or 1.4571 [316Ti]), according to the requirements of the storage medium in each case. Developed in-house, Verinox is a combination of galvanised steel for the outside and stainless steel for the inside of the container. Verinox is an impressive material due to its excellent cost/benefit ratio.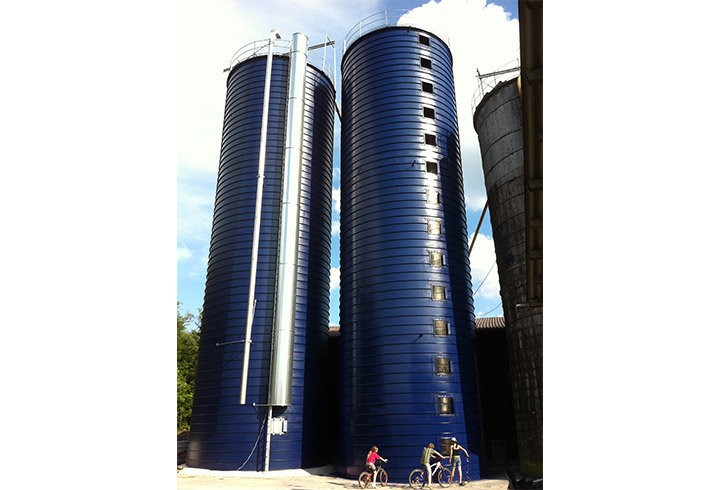 Fast on-site production
Efficient on-site production enables silos with a variable diameter to be installed quickly and cost-effectively at the customer's site.
Accessories
Modules prefabricated at the factory, e.g. filling and draining systems, can be installed and added.
Thousands of projects realised worldwide
The tried and tested LIPP system has been used to construct thousands of systems all over the world for more than 65 years. In particular, customers value the longevity of the tank solutions and the possibility of easily modifying them or fitting a wide variety of accessories during their service life. A selection of the projects carried out using LIPP bulk storage containers is shown below.