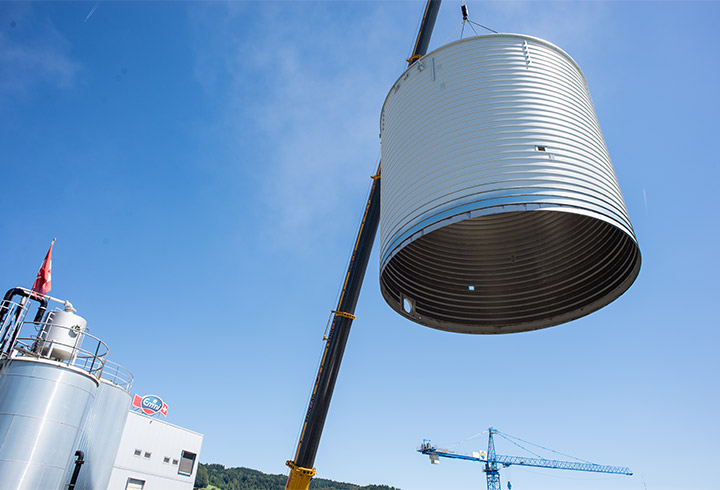 Tank Refurbishing
System for the cost-effective refurbishing or volume expansion of containers or tanks
Changing conditions, material wear, a change to the filling medium – these are just a few of the factors that lead to the replacement of tanks used in industry or at municipal sewage treatment plants. Quantities change and existing tanks become too small – these are also problems that frequently arise.
In such cases, the mobile machine technology from Lipp using the LIPP Double-Seam System or the LIPP welding technique offers a solution that is as simple as it is cost-effective, while being extraordinarily stable. Tanks can be installed on site in any size required and can be placed in an existing steel or reinforced concrete basin using a mobile crane. The existing tank volume is utilised, eliminating the need for expensive demolition work.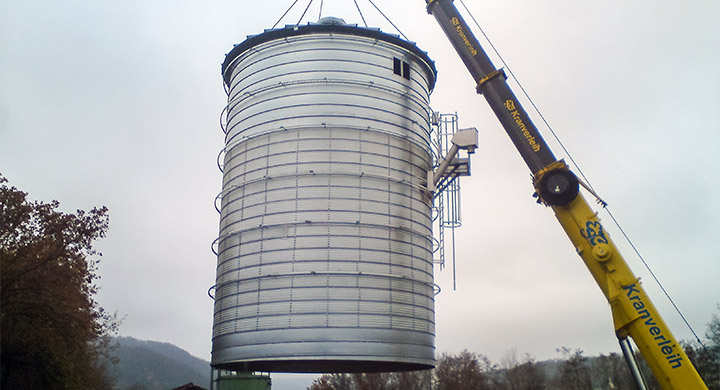 Utilisation of the existing tank volume
High stability, leak-tightness and safety
Continuous adaptation to existing tank sizes
Can be combined with a broad range of accessories
Low investment and maintenance costs
Short assembly times
Diameter
continuously variable from 5 to 50 m
Height
continuously variable from 3 to 35 m
Volume
from 100 to 10.000 m3
Media
solid, liquid or gaseous
Exterior colour
freely selectable according to RAL
VERINOX® stainless steel
Duplex material from a galvanised steel band on the outside and a stainless steel band, e.g. 1.4301 [304], 1.4571 [316Ti] or 1.4539 [904L], on the medium side.
Stainless steel
e.g. 1.4301 [304] or 1.4571 [316Ti]
Galvanised/black steels
further materials on request
Openings and leadthroughs of any size and shape can be installed, even in the event of subsequent upgrades. There is a wide range of peripheral accessories available for the technical equipment of the tank:
Roof insulation
Pumping systems
Flexible mixing technology
Inspection glasses
Stairways, ladders, platforms, connection pieces, manholes, etc.

Rage of materials to choose from
There is also a range of materials to choose from for the tank itself so that it can be optimally matched to the intended application. VERINOX®, the combination material developed by Lipp consisting of galvanised steel (for the outside of steel tanks) and stainless steel (for the inside of tanks), is characterised in particular by the excellent cost-benefit ratio that it offers.