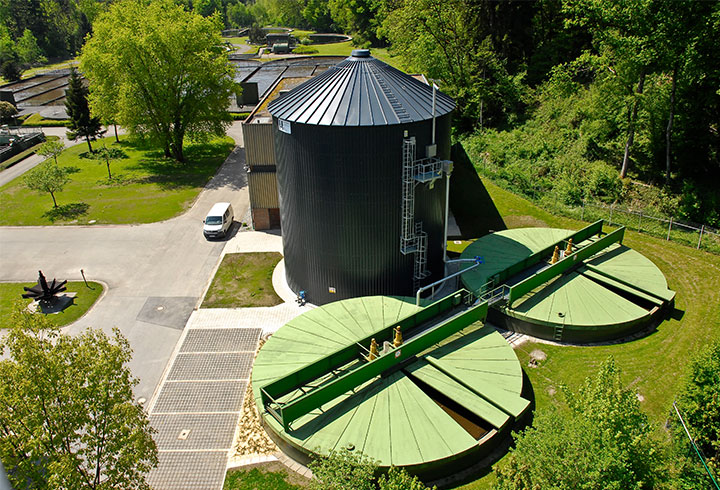 LIPP KomBio®-Reactor
Patented digester with integrated gas accumulator
LIPP KomBio®-Reactor for industry and local authorities: The innovative and outstandingly economical solution for energy production at biogas plants and stabilisation of sewage sludge has been in use in many countries for over twenty years. Quick realisation, low investment costs, high operating safety and long service life are all characteristics that speak for themselves. The system is suitable for small and large plants and complies with industry standards.
Production of renewable energy and reduction of fossil CO2 emissions
Low noise emissions
Flexibility with regard to substrate composition
Compact and space-saving with minimal pipeline construction
High functional safety
Steel roof (can be insulated) to protect against the weather
Individually customisable for intended application
Good insulation reduces heating demand
Patented stirring systems
Fast construction with production on site
Low investment costs
Low-maintenance and durable
Digesters comply with industry standards
Consistent quality worldwide
Volume
from 100 to 3.500 m3
Media
substrate-flexible
Operating pressure
from 0 to 2 mbar
Gas storage
integrated
Exterior colour
freely selectable according to RAL
Tank
VERINOX® stainless steel
Duplex material from a galvanised steel band on the outside and a stainless steel band, e.g. 1.4571 [316Ti] or 1.4539 [904L], on the medium side.
Stainless steel
e.g. 1.4301 [304] or 1.4571 [316Ti]
Installation parts
Stainless steels, e.g. 1.4301 [304], 1.4571 [316Ti] or 1.4539 [904L]
Storage balloon
PVC polyester fabrics
Openings and leadthroughs of any size and shape can be installed, even in the event of subsequent upgrades. There is a wide range of peripheral accessories available for the technical equipment of the tank:
Roof insulation
Pumping systems
Flexible mixing technology
Inspection glasses
Stairways, ladders, platforms, connection pieces, manholes, etc.
An economic and compact solution for energy production
The LIPP digester system has a modular design: digester chamber volumes ranging from 100 m3 to 3.500 m3 per unit are available – with an integrated gas accumulator and all the necessary functional and safety elements in each case. The combination of digester and gas accumulator provides a compact solution and saves on expensive pipeline construction and additional containers.
More information about the LIPP KomBio®-Reactor
Substrate-flexible and easy to expand
The range of material grades available and individually customisable pumping and stirring technologies enable flexibility in terms of the substrate composition which can be matched to the intended application. In addition, further tanks for pre- or post-treatment (e.g. hydrolysis, post-digesters and sugar beet silos) can be provided.
With Lipp tanks for biogas plants and anaerobic digestion, you will benefit from 50 years of experience in plant and tank construction. Lipp tanks are built all over the world using patented Verinox® stainless steel and are characterised by their high quality and maximum leak-tightness.
Features of the LIPP KomBio®-Reactor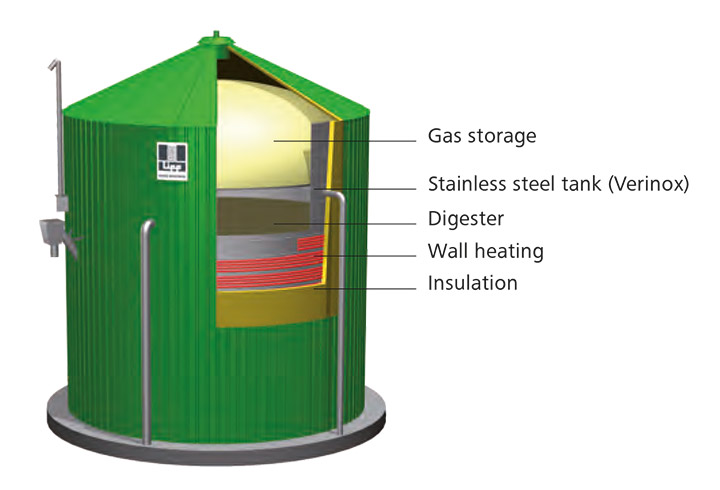 Stainless steel digester with a digester chamber volume of 100 to 3.500 m3
Integrated gas accumulator – fixed in gutter for high operating safety
Optimised diameter-to-height ratio for optimum mixing and minimal stirring
Low-maintenance, external panel heating system
Flexible stirring technology which can be adapted to the substrate and digester
Stirring technology can be maintained without having to empty the tank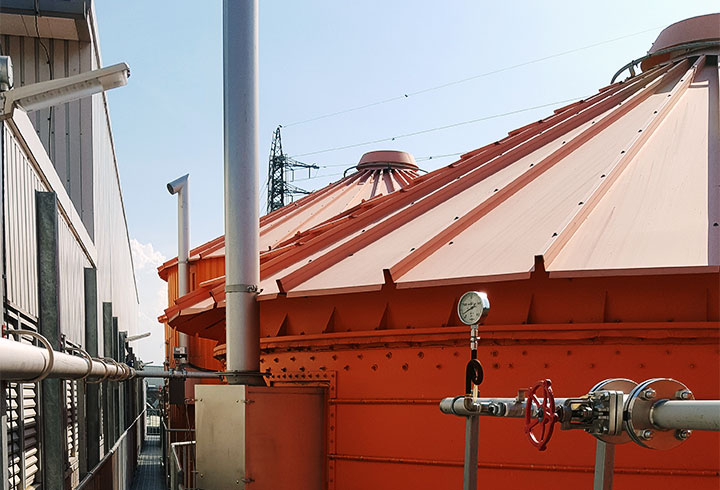 Low investment costs due to quick construction
The automated assembly technology in the LIPP Double-Seam System enables the fast construction of stainless steel tanks, which in turn has a positive effect on investment costs. The benefit for you: flexible construction technology with efficient production on site requiring minimal installation space and ensuring a short installation time.
The smooth internal walls of the LIPP Digesters (largely without any internal attachments) ensure gentle, uniform mixing while keeping energy consumption low. The external heating system guarantees uniform temperature distribution in the digester. These mechanical and thermodynamic benefits with LIPP digesters mean short retention times.
Long service life and high functional safety
The high functional safety, especially for heating and stirring technology, ensures a low demand for process energy and this is combined with the benefits of minimal maintenance requirements and a long service life.